Stamping Rods Machine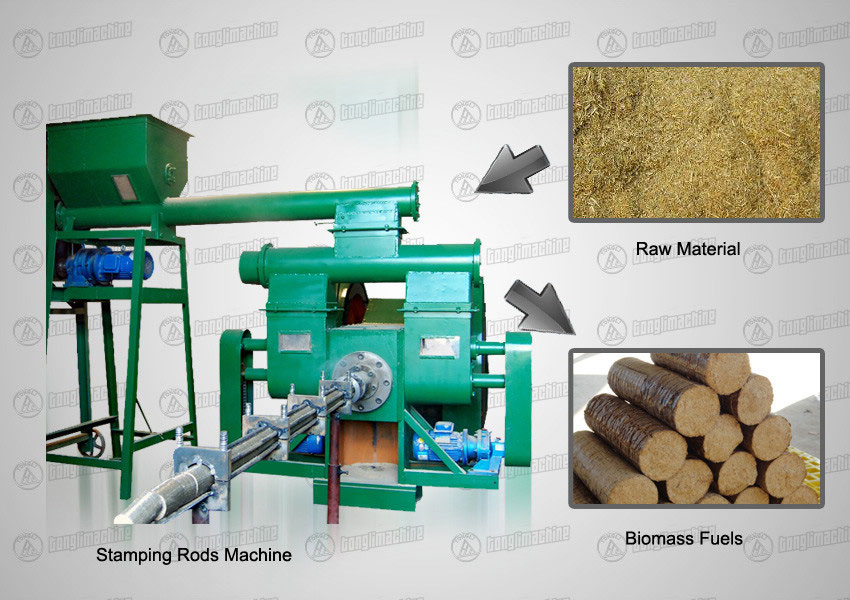 Introduction to Stamping Rods Machine:
Tongli stamping rods machine is actually a biomass fuel making machine which can make straw and forest harvesting residue into solid fuel by dust removal, compression, moulding and other processes. The materials are compressed into a rod-shaped fuel with small volume, big density, without any additives, very convenient for storage and transport, and the unit area combustion is increased greatly, reaching the heat resistance and anti-refining of coal. The device adopts screw prepress, piston stampin and forced oil cooling to ensure the lubrication, with low water content requirment and good wear resistance of molds.
The stampting rods machine has small power consumption, high production efficiency, long sevice life and low maintenance rates. Biomass fuels can replace conventional fuel like coal and oil. It is widely used in industrial production, enterprises, institutions, heating system for urban residents, cooking, fireplaces and high-grade flue-cured tobacco growers, as well as used as a raw material for biomass power generation plants.
Raw Materials for the Biomass Fuel Making Machine:
Biomass straw such as grass, wood chips, sawdust, eucalyptus bark, straw, wheat straw, corn stalks, peanut vine, soybean straw, leaves, cottonseed skins, cotton stalks, shrubs, forest wastes etc.



Charcoal Machine

Charcoal Ball Machine


Charcoal Machine Production Line

Video--Biomass Fuel Briquette Machine